Colorado is an amazing state with most diverse geographical landscape. We have gathered wide range of Colorado Facts for Kids that will help you in learning all about Colorado. A wide range of topics have been covered so that you kids can have an overall overview of the state. Do let us know in the comment section if anything is missing or what you think about the state of Colorado.
Colorado Facts for Kids
1. What is Colorado?
Colorado (meaning red) is a state of United State of America established in 1876.

I

t is a part of the western United States.
It comprises of versatile landscapes such as arid lands, plateaus, mountains, rivers and deserts.
2. How big is Colorado?
The total area of Colorado is 269,618 square kilometers.

268,660 sq. km is occupied by land.

Rest of the 961 sq. km are water bodies.
3. The Bordering States of Colorado
Colorado shares its borders with
1. New Mexico
2. Kansas
3. Utah
4. Wyoming
5. Nebraska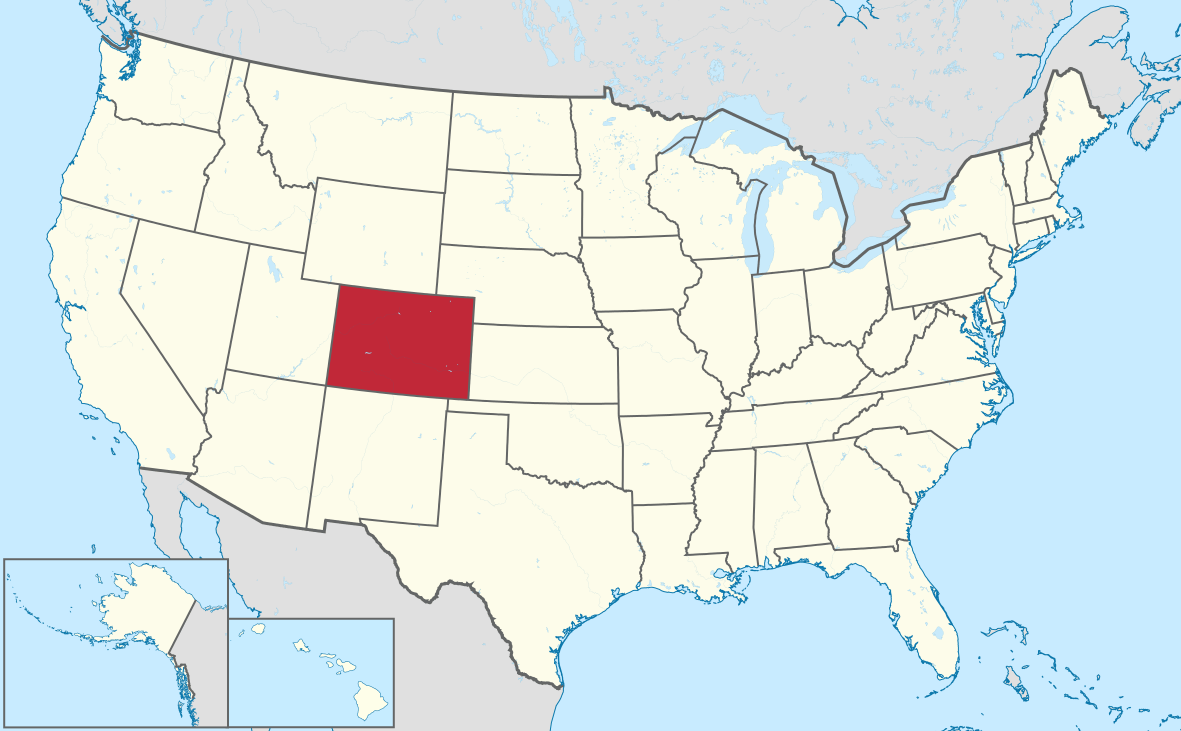 4. What is the State Motto of Colorado?
Colorado's state motto is 'Nil Sine Numine'.

It is a Latin phrase adapted as a part of the territorial seal.
5. Colorado State Motto Meaning
The meaning of 'Nil Sine Numine' is a matter of jeopardy.
Some say it means 'Nothing without providence'.
Others claim that it means 'Nothing without God'.
6. What is Colorado's Nickname?
The nickname of Colorado is 'The Centennial State'.

It depicts the addition of Colorado to the states of U.S, making it the 38

th

state of U.S in 1876.

Another nick name is 'Colorful Colorado' because of its versatile landscapes and beauty.
7. Colorado State Abbreviation
The abbreviation for Colorado is Colo.
8. Colorado State Symbols
Insignia Symbols

State Capital

Denver

State Flag

Flag of the state of Colorado

State Motto

Nil Sine Numine

State Nickname

The Centennial State

State Seal

Seal of the state of Colorado

State Name Origin

Origin of 'Colorado'

State Slogan

Colorful Colorado

State Currency

Colorado Quarter Dollar Coin 2006

Living Symbols

State Amphibian

Western Tiger Salamander

State Animal

Rocky MT Bighorn Sheep

State Bird

Lark Bunting

State Fish

Greenback Cutthroat Trout

State Flower

Rocky Mountain Columbine

State Grass

Blue Grama Grass

State Insect

Colorado Hairstreak butterfly

State Pets

Rescue Dogs and Cats

State Reptile

Western Painted Turtle

State Plant

Claret Cup Cactus

State Tree

Colorado Blue Spruce

State Fruit

Peach

Earth Symbols

State Fossil

Stegosaurus

State Gemstone

Aquamarine

State Mineral

Rhodochrosite

State Rock

Yule Marble

State Soil

Seitz Soil

Cultural Symbols

State Winter Sport

Snowboarding and skiing

State Summer Sport

Pack Burro Racing

State Tartan

Colorado District Tartan

State Song

Rocky Mountain High

State Song

Where the Columbines Grow

State Folk Dance

Square Dance
9. The Flag of Colorado
The flag of Colorado comprises of three horizontal equal width strips and a symbol 'C' near the center.

The outer strips of flag are blue to represent the blue sky, inner strip is white symbolizing the snow covered mountains of the state.

The central 'C' in the flag is of red color to represent the reddish soil and inner part of 'C' is filled with golden yellow to symbolize the sun.

The flag of Colorado was adapted on 5th June, 1911 and it was designed by Andrew Carlisle Johnson.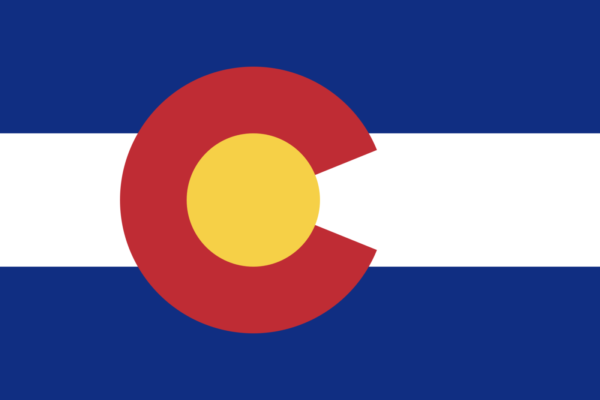 10. The Statehood History of Colorado
The history of Colorado goes back as far as 1300 A.D.

In 1858, the discovery of gold reserves in Colorado brought many settlers of the state to this region.

In 1861, the Colorado territory was established with the population of 25000 people.

In 1864, a war between the native Americans and the U.S army started which ended in 1869 after a truce was signed between the Plain Indians and the Whites.

Finally, on 1st August 1876 Colorado became the 38th state to join the union. It was 100 years after the signing of 'Declaration of Independence'
11. Colorado History Facts – History of Colorado for Kids
Louis Ballast, the owner of Humpty-Dumpty drive-in, was the first to invent Cheese burger. He applied for the patent of his invention too, but was denied.

The 'Mesa Verde' National park of Colorado contains more than 4000 archaeological sites.

The world's first organised Rodeo was held in Colorado on 4th July 1969 in Deer Trail.

The Europeans first discovered this land in 1500s.

The Spanish called it 'Colorado because of its red soil.

One of the oldest wooden Merry-go-rounds of the U.S is in Colorado at "The Kit Carson County Carousel, Burlington".

Every year on third weekend of May, folk of people travel to Fruita, Colorado to celebrate 'Mike the headless Chicken day'.
12. What is the capital of Colorado?
The capital of Colorado is Denver.

It is on the western edge of high plains, in the east of Front Range of Rocky Mountains.

13. Colorado State Government
The state of Colorado runs under the constitution structured in 1876 through voters' approval, with effect from 1

st

August 1876.

Over the years till now, this constitution has been amended 156 times.

The state government is run by Governor John Hickenlooper since 2011.

The Government of Colorado is composed of three branches:
1. Legislative branch
2. Executive branch
3. General assembly
14. Population of the State of Colorado
According to a report of 2016-17, the population of the state of Colorado is 5,029,196.
15. Counties of the State of Colorado
There are 64 counties in the state of Colorado.
16. Which city is the largest city of Colorado?
The capital of Colorado, 'Denver' is the largest city of Colorado.

It has an area of 268,428 square 

km

 and and estimated population of 5,540,545.
17. Other largest cities in Colorado
According to census of 2013, the largest cities of Colorado along with their area in square km are:
1. Denver (682,545)
2. Colorado Springs (456,568)
3. Aurora (359,407)
4. Fort Collins (161,175)
5. Lakewood (152,597)
6. Thornton (133,451)
7. Arvada (115,368)
8. Westminster (113,130)
9. Centennial (109,741)
10. Pueblo (109,412)
18. Colleges and Universities of the State of Colorado
The state of Colorado has a lower education standard as compared to the education standard of the other U.S states.

Following are the different educational institutions in Colorado:
1. 31 public educational institutes
2. 130 private and seminary institutes
3. 354 private occupational educational institutes

According to 2013-14 report total 55,165 degrees were awarded.

Some of the famous institutes in Colorado are:
1. Colorado State University
2. Colorado College
3. University of Denver
4. Adam State University
5. Metropolitan State College of Denver
6. Colorado School of Mines
7. University of Colorado, Boulder
8. University of Rockies
9. University of Northern Colorado


10. United States Air Force Academy
19. Geography of Colorado
Colorado has a very versatile landscape.

Its geography comprises of mountains, plains, canyons, plateaus, valleys, desserts and mesas.

In the east of Rocky mountains lie the Great Plains.

The highest summit of Colorado is Mount Elbert with an elevation of 14,431 ft. It lies in the heart of the Rocky mountains.

In the west of Colorado, rivers have been flowing for centuries which have formed the rugged canyons and high plateaus.

The Rocky mountains are the originator of many rivers too.

Rivers like Colorado, Platte, Arkansas and Rio Grande flow from the land of the state.

Mostly dryland farming and ranching is done in Colorado because the annual rainfall is limited to 15 inches.

The west to east part of Colorado is covered by desert basins, turning in to desert plateaus, then alpine mountains and then the grasslands of High Plains.

The south-west of Colorado has the mineral belt extending towards the center of the state. The mineral belt consists of gold and silver.
20. Geography Facts of the State of Colorado
The highest city of Colorado is Leadville, at an elevation of 10,430 feet above the sea level.

Colorado's 'Continental Divide' is the natural boundary that separates and divides the North America's river system:
1. The west side river falls in Pacific ocean.
2. The east side water division heads in Atlantic Ocean.

The capital of Colorado, Denver is called 'Mile-High-City' because it is exactly one mile above the sea level.

Another city of Colorado, "Boulder" is the only city of entire U.S with a glacier.

The world's largest molybdenum mine is in Colorado.
21. State of Colorado Map
22. Colorado Animals
There is wide variety of animals living in Colorado.
Some wild animals living in Colorado are:
1. Opossums
2. Armadillos
3. Beavers
4. Rats
5. Hares, Rabbits
6. Moles
7. Vesper Bats
8. Cats
9. Bears
10. Skunks
11. Coyotes
12. Foxes
13. Wolves
14. Raccoons
15. Deer
22. Climate of the State of Colorado
The state of Colorado might has as scarce as 7-17 inches of rainfall.

In months of October-April temperatures can drop to 

-18 °C.

Colorado comprises of mountains, high plains, deserts and foothills. So, as a rule of nature, the higher the place the lower the temperature with decreased precipitation.
23. Landmarks of the State of Colorado/ Colorado's Attractions
The rich land of Colorado has many remarkable landmarks among which Rocky Mountains, Pikes Peak, Bent's old Fort, Downtown Aquarium are on top of the list.

Mount Evans, Royal Gorge Bridge, Seven Falls, Mesa Verde National Park, Red Rocks Amphitheatre, Elitch Gardens theme park, Denver Art Museum, Raton Pass, Black Canyon, Lowry Ruins, Colorado Chautauqua, Denver Civic Center are few other significant land marks of Colorado.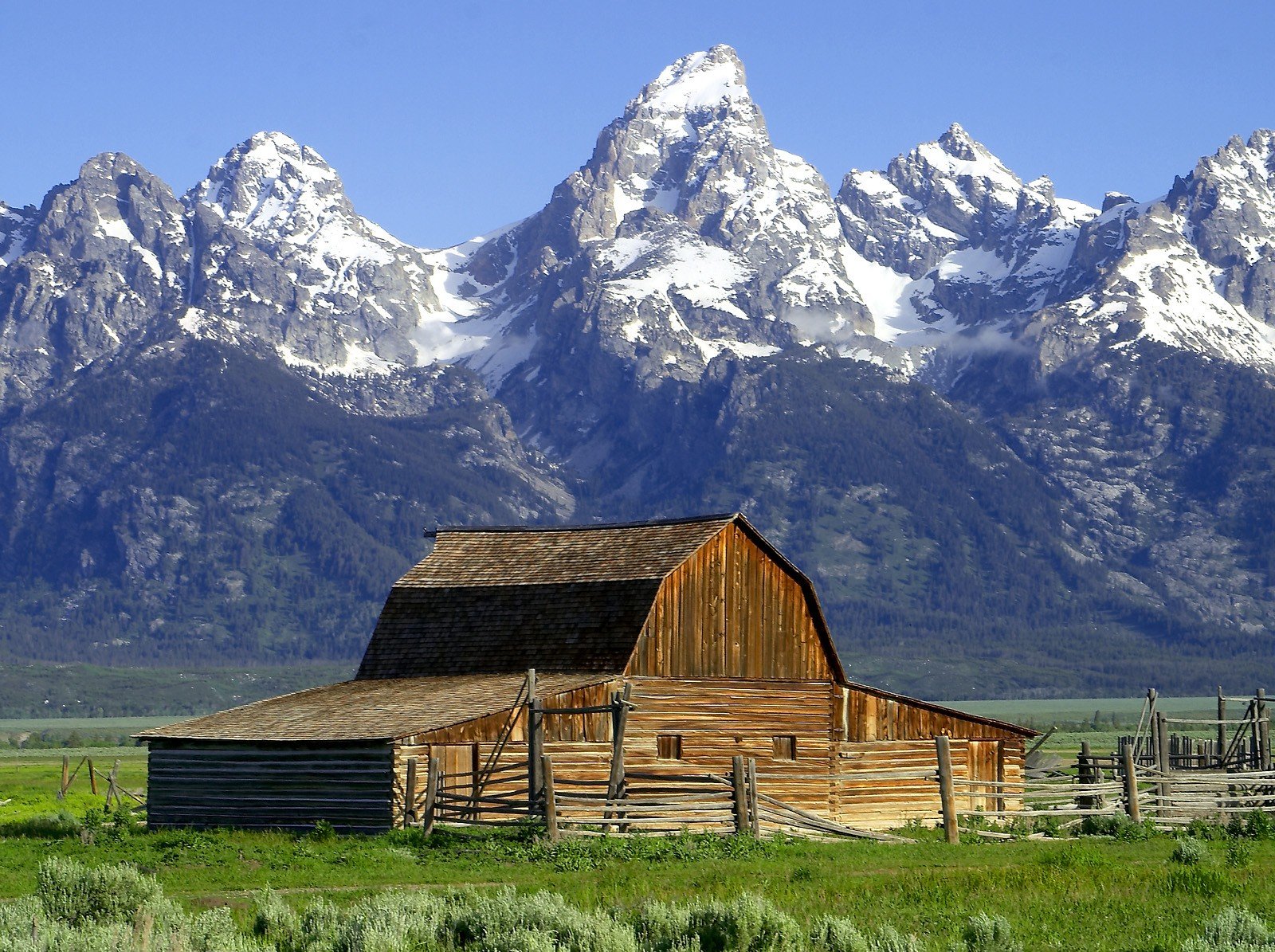 24. Famous People from Colorado
Here is a list of some famous Coloradans:
William Harrison (Jack) Dempsey – a famous boxer

Robert J. Seiwald – an Inventor

Lawrence H. Gipson – a Historian

John Kerry – a Senator and Secretary of State

Florence Sabin – a Scientist

Kristin Davis – an Actress

Max Aaron – a champion figure Skater

Tim Allen – a Comedian and Actor

M. Scott – a Carpenter and Astronaut

Ralph Edwards – an Entertainer

Gene Fowler – a Writer

Ruth Handler – a Toy-maker

Homer Lea a – Solider and Writer
25. Colorado Avalanche
The Colorado Avalanche is a famous ice hockey team of Colorado based in Denver.

It was founded in 1972 and is a member of NHL (National Hockey League).

It is the only team of the division which is not based on the central time zone.
26. Major Industries of Colorado
Once, the economy of Colorado was dependent on agriculture and mining but now manufacturing, tourism and services industry are a big part of its economy.

The manufacturing industries include technology equipment, machinery and chemicals.

Wheat, corn and hay are the crops majorly grown in Colorado.

Livestock is also an important part of farming in Colorado.

Tourism industry is also one of the crucial industries of Colorado.
27. Natural Resources of Colorado
The natural reserves mined in Colorado are oil, coal, natural gas, gold, uranium and molybdenum.

The state of Colorado generates its energy from wind and solar besides the utilization of mineral resources.
28. Cool Facts about Colorado
About 13% of the energy produced in Colorado is generated from wind energy.

The world-class skiing and mesmerizing scenery makes Colorado one of the biggest attractions for tourists.

One of the earliest civilization of the Colorado was the 'Basket makers' who lived in south-western part of the state.

Mount Elbert is the highest point of the state with a height of 14,433 feet.

The famous Pike's Peak of Rocky mountain was discovered by an army lieutenant Zebulon M. Pike in 1806.

The state of Colorado is said to be originally inhabited by the Anasazi Indians. They used to make cliff dwellings in the canyons for living in the south-western region of the state.

Colorado has a dinosaur-rich history. The dinosaur museum in Colorado has fossils of many breeds.
Colorado Facts for Kids Video